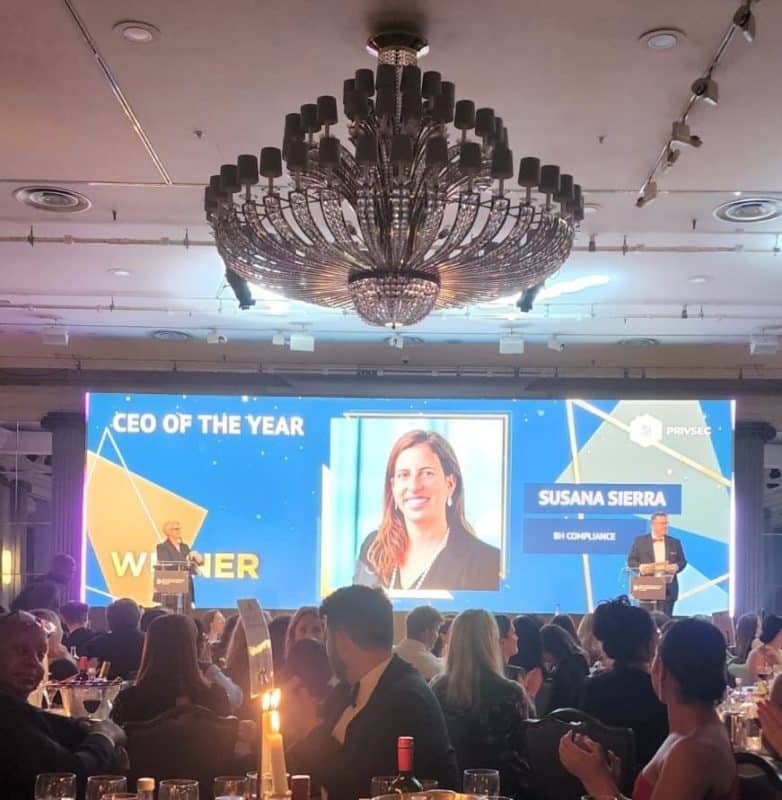 Based in Miami, BH Compliance CEO Susana Sierra has become a reference in the areas of governance, risk management, and compliance, while incorporating technology to fight corruption in the private sector.
At a ceremony held on April 27 in London, United Kingdom, the CEO of BH Compliance, Susana Sierra, was awarded "CEO of the Year" by Women in Governance, Risk and Compliance Series, for her excellence in governance, risk and compliance. The winners of the day were chosen by a panel of distinguished judges, including prominent professionals from around the world who lead change in the sector, who evaluated the attendees, knowing their stories and the efforts they have made to improve the areas they lead.
The businesswoman, who is also a director of AmCham Chile and until October 2022 served as president of Chile Transparente, has excelled in the world of compliance, the fight against corruption in the private sector, and the strengthening of corporate governance to enhance the role of companies in society.
"As a woman in a leadership role, I am especially proud to receive this award. It is a testament to the progress we have made in promoting business ethics and integrity, as well as gender equality and diversity in the workplace. I hope to inspire and empower more women to take on leadership roles and have a positive impact in their sectors," said Susana Sierra.
Since December 2021, Susana Sierra has been based in Miami, where she offers BH Compliance services to multinational companies with subsidiaries in Latin America. From there, she has participated in various instances that have profiled her in her business role, and she is also a director of the Financial & International Business Association (FIBA), based in Florida, USA, which includes prominent companies such as JP Morgan, Wells Fargo, and Morgan Stanley.
It is worth noting that BH Compliance measures the effectiveness of companies' compliance programs, creating evidence of their good corporate practices. Furthermore, it has brought compliance to the forefront by incorporating technology such as blockchain and creating the G-Metrix tool to measure the "G" of governance of the ESG criteria of companies.
Women in Governance, Risk and Compliance Series is an association that provides a platform to recognize, celebrate, and support women leaders in all sectors of governance, risk, and compliance, advocating for their peers and helping to foster the next generation of business leaders in these areas.