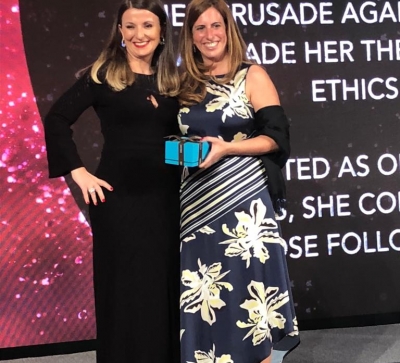 The director of Chile Transparente, executive director of BH Compliance, founder of the Independízate Foundation and co-author of Corrupción a la carta, Susana Sierra, is recognized with the Woman Who Makes a Difference Award presented by the International Women's Forum (IWF) and LeaderShip Foundation (LF).
On Friday, October 26 in Miami, USA, the CEO of BH Compliance was recognized for "Her anti-corruption efforts, which have had an immeasurable impact on our nation". The award from the International Women's Forum (IWF) in conjunction with the Leadership Foundation (LF) honors women who have set innovative precedents through their work and example.
Since 1987, the WWMD Awards have celebrated the achievements and contributions that IWF members have made to their communities and the world.
This year, along with Susana Sierra, will be recognized:
Frédérique Bedos, journalist, documentary filmmaker and founder and president of Le Projet Imagine of IWF France; Sue English, physician, women's health expert and founder of Bayside Friends of Salesian Missions, East Timor of IWF Australia, Beverly Wade Hogan, president of Tougaloo College of IWF Mississippi and Joan Carter, co-founder and president of UM Holdings, IWF of Pennsylvania.
It is worth remembering, that in 2017, Susana Sierra received another important international award: the Women in Compliance Awards 2018 Lifetime Achievement Award for Service to the Compliance Industry that was presented in London, being the first Latina in history to win this award.
About the IWF
International Women's Forum is an organization comprised of more than 6,800 women from 33 nations on six continents. IWF is dedicated to building better leadership globally and locally. The IWF Leadership Foundation supports high potential women through leadership development programs.
The IWF Leadership Foundation, founded in 1990, supports IWF's educational activities for society at large. The Leadership Foundation channels the talent and resources of the International Women's Forum's worldwide network to create programs that educate, inspire, and empower the next generation of women leaders.