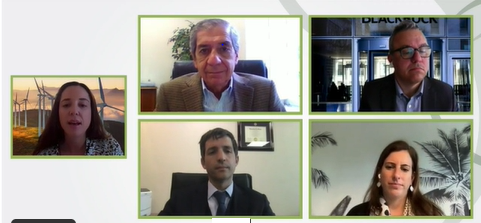 On August 19, 2021, the Seminar "Creating Sustainable Value: Towards Quality ESG Disclosure" was held to present the Study, generated as part of the initiatives of the Public-Private Roundtable on Green Finance of the Ministry of Finance, which analyzes the gaps and needs of the private sector to improve the quality, transparency and consistency of ESG information, based on international and local regulatory developments.
The Seminar began with an introduction and welcoming remarks by the President of the Association, Edgardo Hernández. It was followed by a presentation by Marisol Argueta, Head of Latin America and Member of the Executive Committee of the World Economic Forum (WEF), a panel discussion, moderated by Trinidad Lecaros, Manager of Sustainable Finance at Deloitte, with the participation of Mauricio Larraín, Commissioner of the CMF; Axel Christensen, Director of Investment Strategy for Latin America – BlackRock; Susana Sierra, President of Chile Transparente and Fernando Alvear, General Manager of the CPC, who shared their vision of the importance for companies in Chile to consider the study's recommendations on ESG matters, which were presented by Sharoni Rosenberg, Sustainability and Purpose Manager at PwC:
1) Move towards a basic standard of corporate transparency for all companies of a certain size operating in the country.
2) Apply a systemic vision on the challenge of improving the quality of non-financial data of companies, and define a set of tools that allow progress in this direction in the country.
3) Create a widely accessible data platform in Chile that consolidates companies' ESG information.
You can watch the full video here