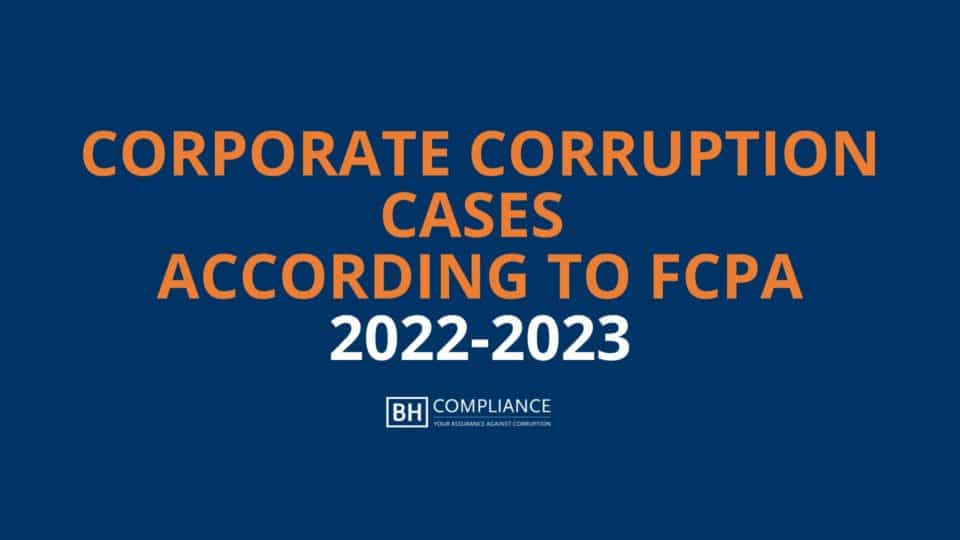 Transparency International's 2022 Corruption Perception Index revealed no progress in the global fight against corruption. In fact, 43 of the 180 countries analyzed have shown no change for the eleventh consecutive year, and over two-thirds of countries have a serious corruption problem.
During 2022, there was a strong enforcement of the Foreign Corrupt Practices Act (FCPA), which can prosecute individuals and companies with even minimal ties to the United States, regardless of where they are located, and other anti-corruption laws. Both the Department of Justice (DOJ) and the Securities and Exchange Commission (SEC) share authority to enforce the FCPA's anti-bribery and accounting provisions. Both have investigated, prosecuted, and convicted companies and individuals.
In this context, it is worth noting the new corporate policies being implemented by the DOJ to prosecute white-collar crimes, which emphasize the value of compliance programs to pursue individual responsibilities and reward companies that self-report and demonstrate their commitment to the fight against corruption.
Gibson Dunn's "2022 Year-end FCPA Update" reviewed the application of the FCPA during the past year, showing a rebound with a total of 14 cases, a significant increase compared to 2021, when there were only six corporate actions, the lowest in modern FCPA history. Also, in 2022, the financial importance of these cases increased, with three investigations resulting in more than $100 million in combined refunds and penalties.
According to the SEC and the US Department of Justice, these are the latest investigations that resulted in convictions for corporate corruption offenses by US regulators:
1. FRANK'S INTERNATIONAL (April 2023)
Oil and gas service provider based in the Netherlands, Frank's International NV, agreed to pay $8 million to the SEC to settle FCPA violations for bribing Angolan officials through a sales agent. The company, now part of Houston-based Expro Group Holdings NV, was accused by the SEC of violating the FCPA's anti-bribery, books and records, and internal accounting control provisions. It is alleged that between 2008 and 2014, Frank paid commissions to a sales agent in Angola when employees knew there was a high probability that the agent would use the commissions to bribe Angolan government officials. In fact, some of the funds were diverted to an official of Angola's state oil and gas company, Sociedade Nacional de Combustíveis de Angola EP (Sonangol), to influence the award of oil and natural gas service contracts. The company reached a settlement without admitting or denying the SEC's findings. In addition, the regulator gave Frank's International credit for cooperating with its investigation, including sending witnesses to the US for interviews and sharing the findings of its own internal investigation. Frank's agreed to pay a civil penalty of $3 million and approximately $5 million in pre-judgment interest and disgorgement.
2. RIO TINTO (March 2023)
Global mining and metals company Rio Tinto plc had to pay $15 million to the SEC to settle FCPA violations related to a consultant hired to retain mining rights in Guinea. In 2011, Rio Tinto hired a French investment banker and close friend of a former high-ranking Guinea government official as a consultant to help the company retain its mining rights in the mountainous Simandou region of Guinea. The consultant began working on behalf of Rio Tinto without a written agreement defining the scope of his services or deliverables. Eventually, mining rights were retained and the consultant was paid $10.5 million for his services, which Rio Tinto never verified. The SEC's investigation found that the consultant, acting as an agent of the company, offered and attempted to pay a bribe of at least $822,000 to a Guinean government official to help Rio Tinto retain its mining rights. Moreover, none of the payments to the consultant were accurately reflected in the company's books and records, and the company lacked sufficient internal accounting controls to detect or prevent wrongdoing. The mine has not been developed by Rio Tinto. Rio Tinto agreed to the SEC's order without admitting or denying its findings.
3. ERICSSON (March 2023)
Swedish telecommunications group Ericsson has agreed to pay a fine of $206 million to the US Department of Justice for breaking a transparency agreement it reached in 2019 with the SEC and DOJ, after being accused of bribery in several countries, including alleged payments to the jihadist group Islamic State in Iraq. In that agreement, the company agreed to pay a $1 billion fine for corruption in five countries: Djibouti, China, Vietnam, Indonesia, and Kuwait.
The payment of this new fine will enable Ericsson to close the transaction agreement concluded in December 2019 with the DOJ. The new fine is due to Ericsson's failure to cooperate with or provide the US justice system with the findings of an internal investigation related to suspicious payments made between 2011 and 2019 to facilitate transportation by road in areas controlled by the Islamic State. The money would have ended up in the hands of the radical group at the time when it controlled part of the Iraqi territory. In a statement, the DOJ said that "companies must know that we will closely examine compliance with all terms of corporate resolution agreements, and that there will be serious consequences for those that fail to live up to their commitments."
Ericsson will also have to serve a probationary period until June 2024 and agreed to a one-year extension of the independent compliance monitor. The company had already acknowledged "unacceptable behavior" and claimed to be doing its utmost to prevent corruption.
In parallel with the agreement with the US justice system, the Iraqi case is being investigated in Sweden.
4. FLUTTER ENTERTAINMENT PLC (as successor in interest to The Stars Group, Inc.) (March 2023)
The SEC charged Flutter Entertainment, plc, a global gaming and sports betting company based in Ireland and successor in interest to The Stars Group, Inc., with violations of internal accounting controls in Russia.
The Stars Group operated a series of gaming brands, including the online poker website PokerStars, and between May 26, 2015, and May 15, 2020, while the company's shares were registered with the SEC, it paid approximately US$8.9 million to consultants in Russia in support of The Stars Group's operations and efforts to legalize poker in that country. The SEC further determined that, during this period of time, the company did not devise or maintain a robust system of internal accounting controls over its operations in Russia with respect to the external consultants, and did not make or keep accurate books and records consistently.
The SEC's order charges Flutter, as successor in interest due to its acquisition of The Stars Group in May 2020, with violations of Sections 13(b)(2)(A) and 13(b)(2)(B) of the Securities Exchange Act of 1934. Without admitting or denying the findings, Flutter agreed to cease and desist from future violations. Flutter also agreed to pay a penalty of US$4 million. The SEC highlighted Flutter's cooperation and corrective efforts, as well as its subsequent withdrawal from the Russian market following Russia's invasion of Ukraine in early 2022.
5. GLENCORE (January 2023)
Swiss multinational Glencore Plc, dedicated to the exploitation and commercialization of raw materials and food, in addition to owning copper and coal mines, reached an agreement with the United States, the United Kingdom, and Brazil, pleading guilty to the accusation of bribery of foreign officials in Africa and South America, as well as manipulation of oil markets, and agreed to pay $700 million in criminal sanctions and forfeiture.
The guilty plea agreement with the DOJ imposed US$429 million in criminal sanctions and forfeiture of US$272 million. In addition, the company must have a compliance monitor for three years.
Glencore paid a total of US$100 million in bribes to officials in Nigeria, Cameroon, Ivory Coast, Equatorial Guinea, Brazil, Venezuela, and the Democratic Republic of the Congo (DRC).
In Brazil, the bribes are related to the Lava Jato case, one of the most significant corruption episodes in that country, where Glencore agreed to pay $39.6 million under a settlement with the Federal Prosecutor's Office of Brazil.
Glencore's British subsidiary was ordered in June 2022 to pay £281 million (US$314 million) in the United Kingdom for bribes in Nigeria, Cameroon, Ivory Coast, Equatorial Guinea, and South Sudan. It pleaded guilty to five charges of bribery and two charges of failure to prevent bribery under the UK Bribery Act 2010.
6. HONEYWELL INTERNATIONAL INC. (December 2022)
Manufacturing conglomerate Honeywell International Inc. has agreed to pay approximately $81 million to settle SEC charges for violating anti-bribery laws, books and records, and internal accounting violations of the FCPA stemming from bribery schemes in Brazil and Algeria.
Specifically, between 2010 and 2014, Honeywell offered at least $4 million in bribes to a high-ranking Brazilian government official in connection with the bidding process at Petrobras, Brazil's state-owned oil company. In exchange, the official provided "internal information and secret assistance" that allowed Honeywell to secure the $105.5 million contract.
In addition, in 2011, Honeywell's employees and agents at its Belgian subsidiary paid over $75,000 in bribes to an Algerian government official to obtain and maintain business with Algerian state entity Sonatrach.
Honeywell consented to the U.S. Securities and Exchange Commission's order that it violated anti-bribery, books and records, and internal accounting control provisions of the 1934 Securities Exchange Act. The SEC order provides for compensation of up to approximately $38.7 million of any payment made to Brazilian authorities.
In a parallel case, Honeywell also entered into a deferred prosecution agreement and agreed to pay over $78 million to settle criminal charges brought by the U.S. Department of Justice.
7. ABB (December 2022)
The Swiss-based technology and robotics company, listed on the New York Stock Exchange, has agreed to pay over $315 million to resolve an investigation into violations of the Foreign Corrupt Practices Act (FCPA) stemming from the bribery of a high-ranking official at the South African State Energy Company, Eskom.
Between 2014 and 2017, ABB, through its subsidiaries, secured multiple government contracts, diverting illicit payments through subcontractors associated with an Eskom official.
The settlement agreement states that ABB and its subsidiaries in Switzerland and South Africa will have to pay the money over a period of three years for violating anti-corruption and commercial laws in several countries.
The Department of Justice resolution is coordinated with the judicial authorities in South Africa and Switzerland, as well as with the SEC.
8. ORACLE (September 2022)
The US-based software company Oracle Corporation will have to pay over $23 million to the SEC for bribing foreign officials in exchange for business, violating the FCPA.
The SEC accused Oracle subsidiaries in Turkey, India, and the United Arab Emirates of creating and using illicit funds to bribe public workers. In the case of Turkey and the United Arab Emirates, it was also found that some of the funds were used to pay for officials and their families to attend technology conferences or go on trips to California.
The company has not admitted to the findings of the investigation, but has committed to paying the SEC $8 million in ill-gotten gains restitution, in addition to a $15 million fine.
It is worth noting that Oracle had already been sanctioned by the SEC in 2012 after discovering that the company's Indian subsidiary had created a parallel fund worth several million dollars.
9. GOL INTELLIGENT AIRLINES INC. (September 2022)
Brazil's second-largest airline has agreed to pay over $160 million to the SEC, DOJ, and Brazilian authorities to settle an investigation into FCPA violations.
Between 2013 and 2021, Gol bribed prominent officials in the Brazilian government in exchange for certain favorable reductions in payroll and aviation fuel taxes. The scheme was made possible by insufficient internal accounting controls, and the bribes were disguised as legitimate business expenses in Gol's records.
Due to the financial situation demonstrated by the company and its inability to pay the full amount of the fines, the SEC and DOJ waived payment of all but $24.5 million and $17 million of the airline's payment obligations, respectively. Thus, Gol will pay approximately $3.4 million in additional fines or restitution to Brazilian authorities.
In deciding whether to accept the offer, the SEC took into account Gol's cooperation and corrective measures, which included imposing disciplinary measures on the company's director who orchestrated the scheme, and improving its internal accounting controls and anti-corruption policies and procedures.
10. TENARIS (June 2022)
Tenaris, a Luxembourg-based company and one of the world's leading manufacturers of steel pipes, will pay over US$ 78 million to settle charges related to a bribery scheme involving its Brazilian subsidiary.
According to the SEC, the bribery scheme extended from 2008 to 2013 and involved agents and employees of the Brazilian unit of the company, Confab Industrial S.A., seeking to secure business from the country's state-owned oil company, Petrobras.
The SEC found that Tenaris lacked sufficient controls to detect bribery despite the "known corruption risks" in Brazil, and despite signing agreements with the SEC and DOJ in 2011 to avoid trial for alleged bribes in Uzbekistan.
Tenaris said that upon learning of the accusations, they conducted an internal investigation and found no evidence of bribe payments. Additionally, they said that an internal investigation commissioned by Petrobras also found no evidence of Confab paying bribes to obtain any benefit or commercial advantage from Petrobras.
Tenaris also said in a statement that they cooperated with the investigation and voluntarily notified the SEC and DOJ in 2016, and that they agreed with the resolution reached with the SEC.
11. STERICYCLE, INC (April 2022)
The Illinois-based US waste management company, Stericycle, has agreed to pay over US$ 84 million to settle investigations into bribery committed by officials in Brazil, Mexico, and Argentina between 2012 and 2016.
Stericycle conspired to pay around US$ 10.5 million in bribes to foreign officials in exchange for commercial advantages that ultimately brought them at least US$ 21.5 million in profits.
In addition to the bribes, Stericycle also falsified books and records to hide the scheme. The company, which may pay the fine under a three-year deferred prosecution agreement, has already paid US$ 9.3 million to Brazilian authorities for the bribery scheme.
The SEC also required Stericycle to hire an independent compliance monitor to review the company's policies and help improve its compliance program within 60 days of its order, which the company must retain for at least 24 months.
12. KT CORPORATION (February 2022)
South Korea's largest telecommunications company, based in Seoul and listed on the New York Stock Exchange, has been ordered to pay over US$ 6.3 million for violating the FCPA in connection with improper payments benefiting government officials in Korea and Vietnam.
According to the SEC, for more than 10 years, KT lacked adequate internal accounting controls over charitable donations, payments to third parties, executive bonuses, and extraordinary corporate expenses, resulting in its employees, in collusion with senior executives, engaging in various corrupt schemes and generating funds that were used to bribe Korean and Vietnamese government officials.
Between 2009 and 2017, senior executives at KT Corporation allegedly used off-the-book funds and cash deposits to create funds to bribe Korean government officials, which included gifts, entertainment, and political contributions to members of the National Assembly of Korea.
Regarding the bribes in Vietnam, between 2014 and 2018, and with the aim of obtaining contracts for two major projects, KT Corporation allegedly paid significant sums to intermediaries connected with government officials.
According to the SEC, KT Corp. did not report the misconduct to authorities but cooperated actively in the investigation.
In November 2021, South Korean authorities charged KT Corporation and 14 executives with criminal offenses related to illegal political contributions from the bribery funds.
***
Corporate corruption is a problem that affects society as a whole and can have serious consequences for the economy and social justice. In this context, the role of the United States Department of Justice (DOJ) and the Securities and Exchange Commission (SEC) has been key in the fight against corporate corruption.
Through regulations such as the FCPA, companies around the world must be concerned with having strong compliance programs to ensure that their internal controls are functioning and to avoid significant economic sanctions and reputational harm.
BH Compliance has experience in the laws governing corporate crimes both in the United States and in Latin America, with the FCPA being one of the most important given the global nature of business where there are no borders.
Through an innovative technological platform and an expert team, BH Compliance measures the effectiveness of companies' compliance programs, detecting gaps so that they can comply with their anti-corruption processes and policies.
Want to learn more? Contact us!
**The list of companies was obtained from the SEC and United States Department of Justice websites.