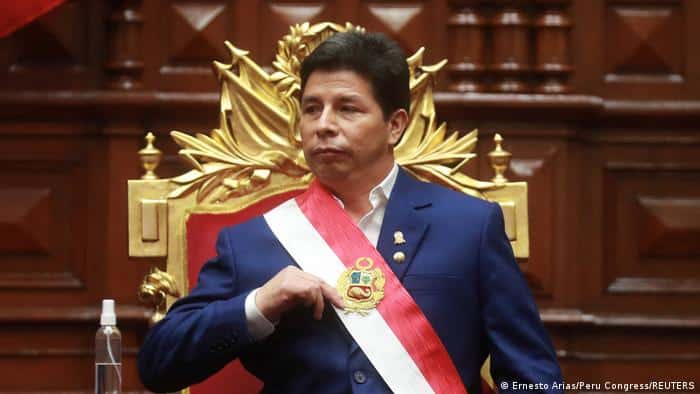 On Tuesday, October 11, Peru's Attorney General Patricia Benavides filed a constitutional complaint against President Pedro Castillo before Congress, hours after a raid on the homes of legislators, officials, friends and the president's sister.
Presidents in Peru have immunity and normally cannot be accused of criminal offenses. According to the Peruvian Constitution, the President can only be charged with treason, impeding the holding of elections, improperly dissolving Congress or preventing it from meeting, as well as preventing the functioning of electoral bodies.
This constitutional complaint represents a relevant step to lift the immunity restriction, in one of the most aggressive measures taken against Castillo since he came to power.
Specifically, the president – who took office in July 2021 – is accused of being the leader of a criminal organization with a vertical structure, aggravated influence peddling and collusion, aggravated in his condition of leader.
According to the Prosecutor's Office, the alleged criminal network led by the President operated in three State sectors: the Ministry of Housing, Construction and Sanitation, the Ministry of Transport and Communications (MTC), and Petro-Peru. In fact, the complaint also includes former ministers Juan Silva (Transport and Communications) and Geiner Alvarado (Housing).
We have found serious indications of the alleged existence of a criminal organization entrenched in the Government Palace with the purpose of taking over, controlling and directing contracting processes in order to obtain illicit profits', said Prosecutor Benavides.
Legislators of a centrist party in Congress, dominated by the opposition, are also being investigated for allegedly benefiting from public works and placing officials in key positions, in exchange for supporting the president's administration.
OPERATION OF THE CRIMINAL ORGANIZATION
The Prosecutor's Office points out that President Castillo is the leader of the organization, who "planned, organized, directed and controlled criminal activities of the organization using his position as head of state".
He then made use of various operational bodies:
Shadow Cabinet: it would have financed and/or collaborated with Castillo's electoral campaign, exercised influence over the president and made decisions in the aforementioned ministries, to fill with trusted personnel and control contracting, directing the works to companies whose representatives were part of the criminal organization.
Congressional body: their function was to support Castillo's administration, voting against vacancy motions, censures and interpellations of ministers and casting votes in favor of the question of confidence raised by the Executive Branch. They also allegedly offered individuals to obtain jobs in the Ministry of Transportation and Communications and in the Ministry of Housing, in exchange for which they allegedly obtained illicit economic benefits from these individuals.
Family arm: coordinated, managed and made feasible the direction of contracting processes that took place in different State entities. It was integrated by the First Lady Lilia Paredes and family members, such as her sister Yenifer Paredes, and Pedro Castillo's nephews: Fray Vásquez Castillo and Gianmarco Castillo Gómez, who are fugitives from justice.
Lobbyist arm: in charge of managing the economic interests of the organization, through the recruitment of businessmen in order to offer them works and/or bids in exchange for large economic benefits. Among them was the businesswoman, Karelim López, who took advantage of the figure of effective collaboration with justice to obtain procedural benefits in a case in which she is also implicated.
Obstructionist arm: Their role was to intimidate witnesses and/or collaborators who participated (or have participated) in the activities of the criminal group. To that end, they deployed acts of persecution and harassment against justice operators willing to investigate them.
Ministerial arm and high-ranking officials: their function was to transmit the order given by the leader of the organization to the lower part of the pyramidal structure. Their actions gave the criminal organization a semblance of legality in order to fulfill its mission.
Prosecutor Benavides also said that "a fierce obstruction of justice" was taking place from that network. One of their actions was confirmed by the effective collaborator CE-04-2022-EFICCOP who said that "notebooks of occurrences were burned and cell phones of President Castillo's aides disappeared". The fact would have occurred in December 2021, when the raid on the Government Palace for the Petro-Peru Case was planned. The action was carried out by the then General Undersecretary Beder Camacho by order of the President.
Let us remember that Castillo is facing six fiscal investigations, five of them in charge of the Prosecutor's Office, for the alleged crimes of influence peddling, obstruction of justice, directing a criminal organization, and even plagiarism of his master's thesis as a professor.
Although prosecutor Benavides did not mention it as one of the matters supporting her constitutional accusation against the president, it is known that the Prosecutor's Office is also investigating Castillo's role in alleged irregularities in the promotion of high-ranking officers of the Armed Forces and the Police.
The Prosecutor's Office believes that Castillo, together with a former Minister of Defense, Walter Ayala, and his former personal secretary, Bruno Pacheco, allegedly requested the promotion of several officers to the rank of general and tried to receive money in exchange for those promotions. Castillo was summoned to testify on this matter on August 4 and chose not to testify.
The head of state defended himself in a press conference with international media and said that "there is no real basis" and "these accusations are orchestrated". He reiterated that he will prove his innocence and assured that "a new modality of coup d'état has been set in motion in Peru".